DIET CIG REVEAL NEW SINGLE "BARF DAY" 
DEBUT ALBUM SWEAR I'M GOOD AT THIS OUT APRIL 7VIA FRENCHKISS RECORDS
ON TOUR THIS SPRING + SXSW
Diet Cig will be releasing their debut album Swear I'm Good At This on April 7th (Frenchkiss) and in advance of its' release they share a new single in album highlight "Barf Day."  The track, which was spun first this week by Zane Lowe on his Beats1 radio show, premiered via Stereogum who note, "The delightfully titled "Barf Day" (embodies) what makes the pair's upcoming debut Swear I'm Good At This so enthralling: the featherweight garage grit, Luciano's subversive sincerity, and bandmate Noah Bowman's fist-pumping percussion…Against all odds, Diet Cig are coming of age on their own terms."
Listen to "Barf Day":
"Barf Day" comes on the heels of Diet Cig's video for their hook-ridden single "Tummy Ache" which saw significant support in the UK (from blogs to broadsheets to the main monthlies) and internationally. NPR called the song "undeniable" and the video "a near-utopian space of grrrl power, music and community."  It was directed by Robert Kolodny and stars campers from the Willie Mae Girl's Rock Camp and Girl's Rock Philly.
"('Tummy Ache,' is) a surge of earnest aspiration laced with self-questioning…layers of fuzztone, feedback and backup vocals expand the soundstage and raise the stakes: 'Finally it's time to make my words count/in a way I haven't quite figured out,' she sings. The music insists she will."  The New York Times


"Their twee stylings could easily become sickly sweet to a fault if mishandled, but Luciano's honeyed voice makes the sentimental songwriting relatable." Pitchfork on Tummy Ache
Vocalist Alex Luciano brings a lighthearted innocence to ('Tummy Ache') singing criticisms of the patriarchy in the most charming way."  Nylon
Swear I'm Good At This is now available to pre-order HERE – it includes an instant grat of "Tummy Ache" and tomorrow will also include "Barf Day."  Further, Diet Cig will be collaborating with Tuesday Bassen on limited-edition pink silk bomber jackets only available in the preorder bundles. Artist Faye Orlove has designed the tee & sticker sheet that's is available with the preorder as well.
The band, who are well-known for their energetic and bombastic live shows, will be touring the world in support of Swear I'm Good At This.  They will have Girl's Rock Camp affiliated camp bands and other young musicians joining them to open a handful of shows. "We're super excited to announce these shows in collaboration with Girl's Rock Camps across the US! we believe that supporting these young musicians is crucial to the future of rock, and we're so excited to share our stage with them."
The complete list of dates below, including the first round of Girl's Rock Camp affiliated bands.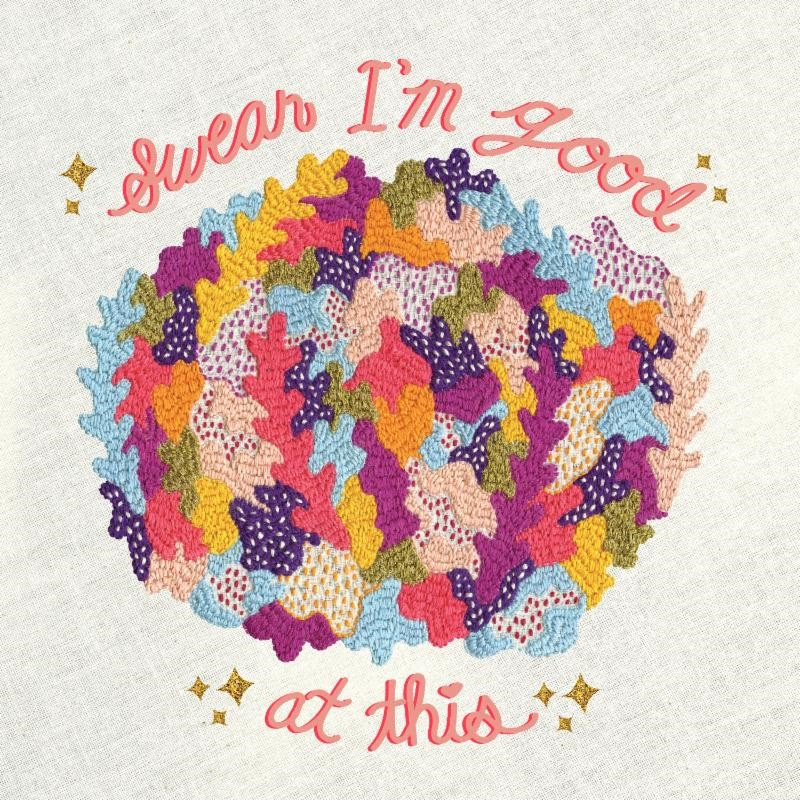 Diet Cig On Tour
SXSW Shows:
March 13 – Austin, TX @ Hotel Vegas & Volstead (Do512 Strange Brew 6)
March 14 – Austin, TX @ Side Bar (Lagunitas)
March 14 – Austin, TX @ Las Cruxes (She Shreds)
March 15 – Austin, TX @ Container Bar (Dr Martens)
March 15 – Austin, TX @ Space 24 Twenty (Urban Outfitters)
March 17 – Austin, TX @ Waterloo Records
March 17 – Austin, TX @ Sidewinder (Flower Official Showcase)
April 05 – New Haven, CT @ BAR
April 06 – Philadelphia, PA @ Boot & Saddle
April 07 – Brooklyn, NY @ Baby's All Right (early show)
April 07 – Brooklyn, NY @ Baby's All Right (late show)
April 08 – Boston, MA @ Brighton Music Hall
April 10 – Montreal, QC @ Bar Le "Ritz" P.D.B.
April 11 – Toronto, ON @ Drake Hotel
April 12 – Rochester, NY @ Bug Jar
April 13 – Washington, DC @ R&R – DC GR!ASP (Girl's Rock! DC After School Program)
April 14 – Richmond, VA @ Gallery 5 – Waiting for Silence (Benefit for Girl's Rock! RVA)
April 15 – Carrboro, NC  @ Cat's Cradle – Fish Dad (Girl's Rock! NC)
April 18 – Orlando, FL @ Will's Pub
April 19 – Tampa, FL @ New World Brewery
April 20 – Tallahassee, FL @ Club Downunder (at FSU)
April 21 – Atlanta, GA @ Masquerade – Dadgoth (Girl's Rock! Camp ATL)
April 22 – Charlotte, NC @ Snug Harbor
April 26 – Eugene, OR @ Boreal
April 28 – Seattle, WA @ Barboza
April 29 – Portland, OR @ Mississippi Studios
May 01 – Reno, NV @ Holland Project
May 04 – Los Angeles, CA @ The Echo
May 05 – San Francisco, CA @ Rickshaw Stop –Death Metal Chickens (3 O'Clock Rock)
May 05 – Anaheim, CA @ Chain Reaction
May 06 – San Diego, CA @ Che Café (at UC San Diego)
May 08 – Santa Cruz, CA @ The Catalyst Atrium
---
Find Diet Dig here:
https://www.facebook.com/dietcigmusic