Thrice Premieres Official Video For "Black Honey" Today
Pre-order To Be Everywhere Is To Be Nowhere
Second LA Show @ The Novo Announced- Pre-sale Starts Today
"It's a gloomy and propulsive piece of heavy drama that recalls late-period Cave In, with Kensrue channeling the soulful rasp of Soundgarden's Chris Cornell more than ever."-NPR
"It's as heavy and chunky as all of their material…it's truly like no time has passed."-Fuse
"To Be Everywhere Is To Be Nowhere could be one of the best Thrice albums to date."-MXDWN
  Just last month Orange Country's Thrice announced the release of their ninth studio album, To Be Everywhere Is To Be Nowhere. The album was produced by Eric Palmquist and will be released on May 27, 2016 via Vagrant Records/BMG. Today, fans can watch the eerie new video for the album single 'Black Honey."
Watch here: 
When a band announces a hiatus, the news is generally met with a sigh from the fans and the sinking feeling that this is it; it's all over. But back in 2012 when Thrice pressed pause on their collective career there was little doubt in singer Dustin Kensrue's mind that this was the respite he needed personally, and that this would mean the band could eventually continue creatively.
It wasn't till around Thanksgiving 2014 that Dustin fired off a group text that would start to bring their lives back together. Sent after he and Teppei caught a particularly inspiring Brand New concert, the wheels were slowly set in motion. Due to their disparate living locales, the quartet began to share scraps of songs and ideas online, a process that's commonplace for many, but somewhat foreign to a group used to thrashing out the majority of a record together in one room—and of course, they eventually did. In January and February 2016 Thrice reconvened in Southern California for a period of six weeks to lay down their ninth album, To Be Everywhere Is to Be Nowhere, with the help of producer Eric Palmquist.
For this record the singer found he was variously inspired by Stephen King's seminal book On Writing, philosopher Seneca the Younger, and his feelings on modernity's relentless connectivity, not to mention the relentless updates of news at home and around the globe. Dustin calls To Be Everywhere… his most vulnerable and most politically-minded album to date.
To Be Everywhere Is To Be Nowhere will be released on May 27th, 2016. In celebration, Thrice will be hitting the road in June with La Dispute and Gates. Today, the band has announced a second LA show at The Novo in October. Presale starts today at noon, local time. A full list of dates can be found below. Presale tickets can be purchased here: http://thrice.shofetti.com/
Pre-Order To Be Everywhere Is To Be Nowhere:
iTunes: http://smarturl.it/TBEITBN
Store/Physical: http://smarturl.it/ThriceStore
Amazon: http://smarturl.it/TBEITBNAmz
Spotify: http://smarturl.it/ThriceSpotify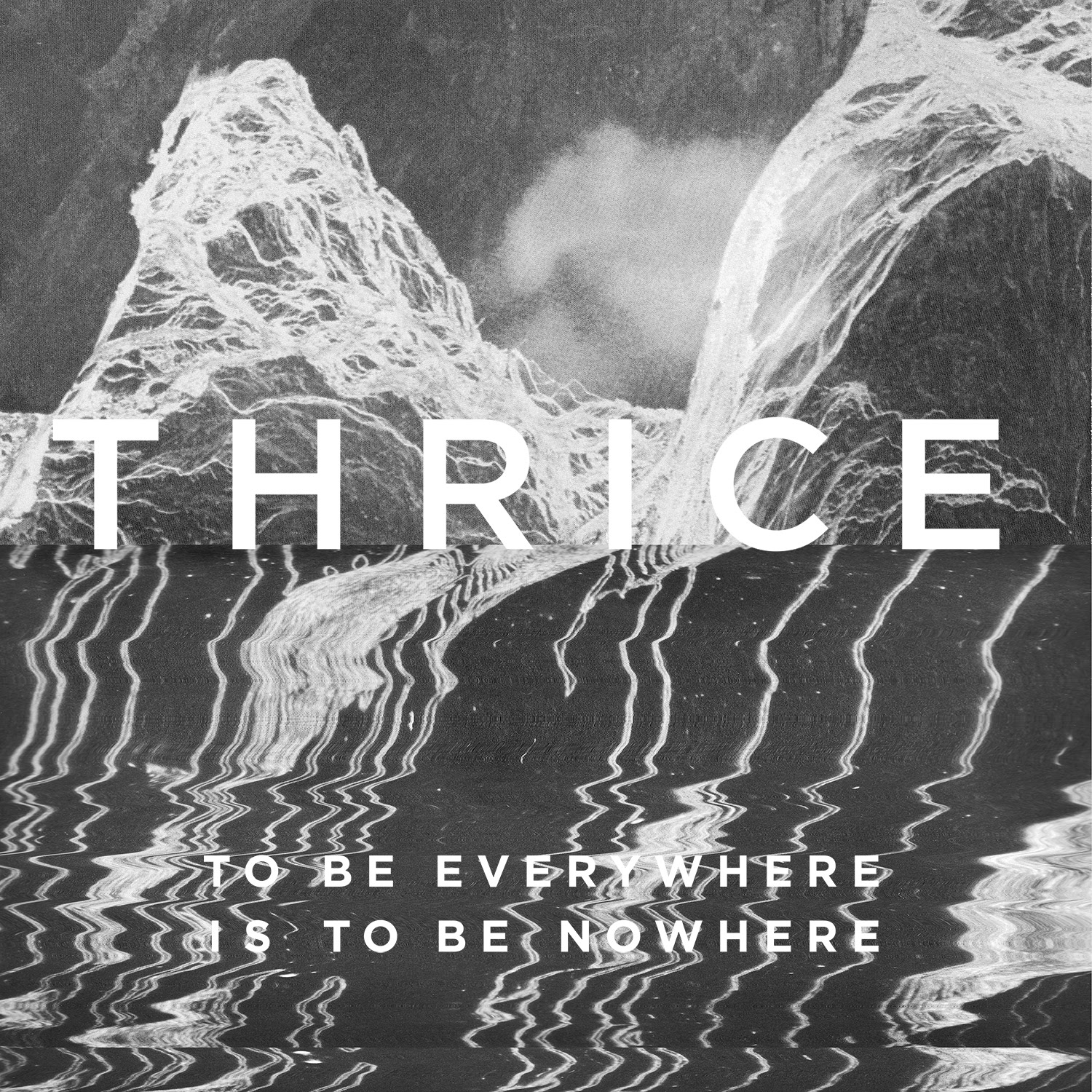 To Be Everywhere Is To Be Nowhere Track List
Hurricane
Blood On The Sand
The Window
Wake Up
The Long Defeat
Seneca
Black Honey
Stay With Me
Death From Above
Whistleblower
Salt And Shadow
Thrice On Tour:
6/03 Los Angeles CA @ The Shrine Expo Hall
6/04 San Diego CA @ House of Blues
6/05 Tempe AZ @ The Marquee
6/07 Austin TX @ Emo's
6/08 Houston TX @ House of Blues
6/10 Atlanta GA @ The Tabernacle
6/11 Lake Buena Vista, FL @ House of Blues
6/12 Charlotte NC @ Fillmore Charlotte
6/14 Norfolk VA @ The NorVA
6/15 Silver Spring MD @ The Fillmore
6/16 New York NY @ PlayStation Theater
6/17 Philadelphia PA @ The Fillmore
6/18 Sayreville NJ @ Starland Ballroom
6/19 Boston MA @ House of Blues
6/21 Toronto ON @ Sound Academy
6/22 Detroit MI @ St. Andrew's Hall
6/23 Chicago IL @ House of Blues
6/24 Lawrence KS @ Granada Theatre
6/25 Denver CO @ The Summit Music Hall
10/08 Los Angeles CA @ The Novo
Links: 
https://www.facebook.com/officialthrice