BLACK 
Music and Arts Event
Saturday 11/14
from
10pm-6am
The Brooklyn Hangar (#2 52nd Street, Brooklyn, NY 11232)
tickets 
HERE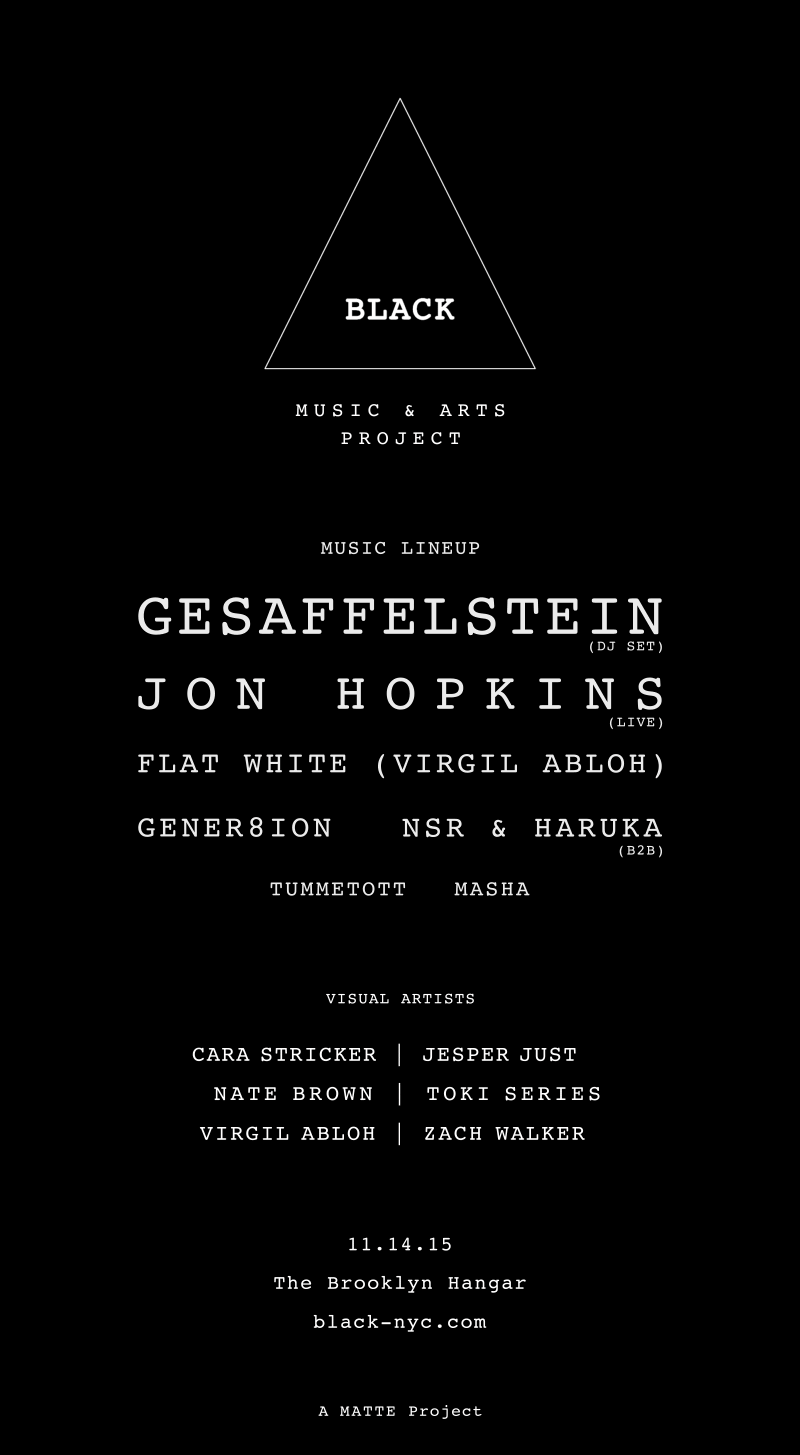 Music Artists
Gesaffelstein (DJ Set)
Jon Hopkins (Live)
GENER8ION
FLAT WHITE (Virgil Abloh)
NSR x Haruka
Tummetott
MASHA
Visual Artists
Cara Stricker
Jesper Just
Nate Brown
Toki Series
Virgil Abloh
Zach Walker
---
MATTE Projects presents a one-night, multidimensional collaborative music, design, and art affair on Saturday November 14th – all seen through the prism and aesthetic of BLACK.
---
Founded in 2013, BLACK returns to New York City in one of Brooklyn's large, raw warehouse spaces. The night will consist of two floors: a 15,000 square foot raw space which will include a custom stage and lighting set up for all the musicians and a 15,000 square foot white walled basement broken up in in six different rooms for six different visual artists.
---
BLACK is not only the absence of all light, but also the amalgamation of all color. Black is not only a musical endeavor, but also a sensory experience, one that will be heightened and further be explored in the basement of the hangar.
---
We are excited to announce the music lineup: the Parisian dark prince 
Gesaffelstein
, euphoric electronic mastermind 
Jon Hopkins
, mysterious M.I.A. collaborator 
GENER8ION
, and Kanye West's creative director 
FLAT WHITE
.
---
---
We are excited to partner with educational nonprofit React To Film, art publication Art Report and Perrier to present BLACK. A portion of the proceeds from BLACK will benefit React To Film's middle and high school program and college action network. Be use to stop by the Perrier bar in the basement of BLACK.
---
"When you walk to the edge of all the light you have and take that first step into the darkness of the unknown, you must believe that one of two things will happen. There will be something solid for you to stand upon or you will be taught to fly."​
---
"an exploration of a color and a lifestyle through a live experience." – Vogue
---
Facebook: @blackmusicarts
Instagram: @blackmusicarts
Twitter: @blkmusicarts
#blackmusicarts