London's synthpop electronic project, Real Experts are due to launch their new LP 'The Trade Off' on the 16th of October and The Planet Of Sound has managed to get an exclusive interview thanks to Shauna at Shameless PR for making it possible.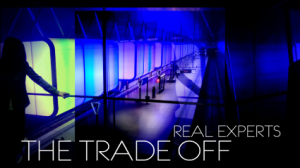 Real Experts is a London-based synthpop electronic project, headed by Andrew Maley. Their second LP 'The Trade Off', to be released on October 16, is loaded with catchy lyrics and infectious choruses. In following with a tradition this project has become known for, a beautiful rotating door of guest vocalists feature on this album. The first single is 'Disco Tears' featuring Daniel Angelus, the lead singer of Surrender Hearts, who has recently shared the stage with T'Pau, Katrina and The Waves, and Musical Youth. Angelus also features on three other tracks.
---
INTERVIEW WITH LONDON SYNTHPOP WONDER REAL EXPERTS
When did Real Experts start? Can you tell us a bit more about the project's history?
It all started when two of us got frustrated with how the band was going in its previous form, we needed to get back to electro pop basics and enjoy it again, so with a handshake over the top of my car we formed (The) Real Experts on May 29th 1994.
We were very much engrossed in the more commercial dance/house music at the time, combined with classic electronic music, and we revelled in the more relaxed outlook and added quite a bit of humour to a lot of what we did.
The main problem though was we had no one to sing, so our plan (which still carried for a long time) was to try and have someone different singing on every song to make it more interesting. Of course in dance music that is common place since then anyway, but we wanted to keep listeners on their toes!
It took a long time though before we finally made the tracks sound like we wanted, but it does mean that we have a massive back catalogue of unheard material which we are hoping to re-record and release soon.
Now the band is bigger, especially for the live shows, and I think we have accidentally used the experience of time to create a sound that genuinely does span different phases of pop music.
Can you tell us about your relationship with Hot Chip? We know that you are sometimes compared to them and that you have a joint gig coming up with them as well in London.
Well the relationship, despite the occasional social media exchange, is primarily us being massive fans of theirs! In some ways I would call them an influence too, certainly the more quirky dancey stuff we do. But when the opportunity came up to play at their official aftershow, we had to make sure we were involved. And it was quite clear that we are a similar genre and style to them so would be a great match. Didn't take much convincing to get us booked! Ultimately we're honoured to be involved, and I know they take their DJ sets very seriously too so it's going to be a great night all round.
Tell us about your upcoming album? It's out on October 16 on Black Towers, isn't it? 
That is indeed correct. We're so excited about it, we feel that it's a masterpiece, where we've tried to make every song an epic. We don't believe in token album tracks and fillers and things like that. I view every song we ever do as a potential single. I think the album is more emotional than the first one we did (which was almost a 'best of' to that point), there are darker elements than before, but we never compromise on catchiness and classic song structures where the chorus is supposed to stick in your head for a long time!
Another aspect to this album is we have even more guest vocalists. We do like to collect them! I love the variety in our own music and whilst you need a consistent strand through every album in the technical sense, I never want anyone listening to our albums to get bored!
Who are your influences?
There are two phases of influences really. Like most pop acts, we're originally inspired by the golden period of late 70s disco going into early 80s electro. It will always stand the test of time and I don't think it's a coincidence that it has affected so many artists. Beyond that comes the direct influence of Pet Shop Boys, Depeche Mode and New Order, before dance music kicked in and bands like The Beloved had a massive effect, that combination of kicking beats in an uplifting song format.
In terms of current influences, we had a big Royksopp phase where they could have been us! Then since 2009 there seems to be a second great era of electro, fused with indie, so along with the aforementioned Hot Chip, we have amazing acts like Hurts, White Lies, Friendly Fires, Cut Copy, Fenech-Soler, Chvrches, these are the kind of acts that give us the motivations to keep pushing ourselves into recording more and more.
Could you list your Top 5 albums of all time?
Pet Shop Boys – Please
The Beloved – Happiness
Depeche Mode – Violator
Hurts – Happiness
Electronic – Electronic
Wow, two albums called Happiness!
How do you feel about playing live?
It's amazing whilst you're on stage, it's that adrenalin surge which people crave. One of our new songs 'Sugar Rush' is actually about the whole live music experience. Our shows are complex in their preparation though as we have more live musicians performing that on the record itself, I've always wanted to make it seem like we're giving something extra live. You have a responsibility to put on a show. And because we have so many different guest singers and a large back catalogue we make every set different, but that's also because I get bored otherwise! It's worked out well so far, but it's very mentally draining in advance, we're not like a rock band that can just turn up and play, I want the crowd to be impressed.
Quite often the most enjoyable sets to perform though are when we go acoustic. To have a group of people playing purely without aid and all on the same wavelength is quite a satisfying sensation.
How would you describe your sound? 
Perfect pop. Ha! That's the phrase I always use. Because the elements of what I consider to be needed to make pop music are there. To answer the question properly I'd say Electro Indie Pop. We're not synthpop because we use a lot of real instruments too. Am I allowed to make up a phrase? We might just be Eclectro.
Tell us about the process of recording the songs? 
Well, they all start life in my head. Often I will see a phrase or hear someone say something, and I think that would make a good song title. To me the title is king and everything comes from there, if the words look good written down then it's a good start. Then a chorus will just evolve in my head without me really trying. So often I have to quickly record myself singing it. But in my mind how the song will sound, in quite a lot of detail, will be formed. I quite often simulate a beat box as I walk around (presumably looking mad) and sing the song to myself. So by the time I'm in the studio starting the demo I have a massive head start. Occasionally some songs will be a collaborate effort but because of the nature of how the band is geographically apart I'm used to doing the whole demo process alone.
And I usually can tell which of the vocalists are most suitable for that particular song, so I do the guide vocals knowing that in my mind. Of course I have assure everyone that I know exactly what it will all sound like in the end, because they learn the vocals before all the guitar and bass and live percussion goes on. But they trust me. As I say to them, I'm never wrong!
The only problem is I have about a thousand songs swirling around in my mind and there's not enough hours in the day to get them recorded!
But I call it hit-churning. Although true hit-churning is recording a song from scratch in the fastest possible time. I think the record is 45 mins, which is one of my Tame Genius solo tracks.
Which work of your own are you most surprised by?
Blimey, now there's a question. I'd have to think. Because of the process explained I guess I'm in control the whole way through. But there does reach a stage after a song is finished where I become detached from them, and sometimes I will think, did I realty write that? So in that sense I would say 'My Love Is Nothing More Than This', apart from being proud to have written it, I get goosebumps hearing it now (mainly because of Eden's voice), which is a very strange thing to feel with your own song.
I guess I'm also surprised at how random 'Lemon Is Lemon' is. Ha!
Which new artists do you recommend?
Well I would say most of the current acts I like aren't brand new. But from those that have just brought our first albums I would say Oh Wonder stand out. Amazing and beautiful album that was only recently recommended to me actually. Although they are very teen pop I really like Years & Years too.
Which band/song would you love to make a cover version of?
Well we do a lot of covers in our live sets, so we've done some personal favourites already like Depeche Mode – Stripped, Joy Division – Love Will Tear Us Apart, Pet Shop Boys – West End Girls etc. Plus we've covered Hurts. Ironically I'm not a massive fan of doing covers, but I do like doing surprise acoustic versions of upbeat tracks. Rather randomly I have in mind the idea to do 'Say Nothing' by Example as a piano ballad. So there you go!
What are your plans over the next year or so?
Well whilst it feels like we need a physical rest, the third album has already begun and is mapped out. And the first new collaboration beyond The Trade Off is 'Apart Is Still Enough' featuring CountessM. That will probably be a January release, and then we have the remix album planned, called REalMIX. For that we have been inviting producers, artists and DJs to remix anything from our back catalogue.
In terms of live performances we will continue to do those that feel right to do, we'd love to play abroad actually, that is our aim.
And also we want to host Xpert Factory 2 some time in the next year or so, it was a great success last time, essentially hosting auditions, which is where we discovered three singers who ended up on the album!
Anything else you'd like to add?
Nothing other than a promise that we will never stop recording relentlessly perfect pop music! We've always said that if one person somewhere in the world stumbles across us and a song makes a connection with them, and it matters, that's what we strive for.
Keep up with Real Experts
Website | Facebook | Bandcamp | Twitter | YouTube | Soundcloud
Thanks a lot for the interview. We really appreciate it.