SUPPORT FOR 'HANGING UPSIDE DOWN'
Feature Spotlight Artist – Spotify AU/NZ
"A powerful, compelling pop meets rock treat."
I Heart Moosiq (USA)
"I completely recommend Lime Cordiale for a kicking tune."
Semplesize (AUS)
"The song is set to be this year's summer anthem."
Casual Band Blogger (AUS)
LIME CORDIALE
NEW SINGLE 'FEEL ALRIGHT'
Sydney's Lime Cordiale are storming through 2015 on the back of recent single 'Hanging Upside Down', which saw them tour the country and achieve a national Spotlight feature on Spotify Australia in February.  The Northern Beaches locals are now excited to release new single 'Feel Alright'.
Inspired by a string of influences from Charles Bradley to Daft Punk to The Roots, 'Feel Alright' was recorded with Sydney-based producer Jean Paul-Fung – the second single with JP since their signing to Alberts Music at the end of 2014.
Frontman Oli Leimbach on working at Alberts Music in Sydney:
"Alberts was a buzz. There's always amazing people coming in and out of there. We'd be in the middle of a session and people like Jake Stone or The Delta Riggs would burst through the door wanting to hear something. There's always mi goreng in the cupboard too."
'Feel Alright' draws from the diversity of Lime Cordiale's emphatic live show, which has graced countless local and international stages over the last 18 months including two separate twenty-date tours of North America and alongside The Delta Riggs (sold out national tour), Ball Park Music, The Griswolds, Dispatch and Cosmo Jarvis.
The five-piece from Sydney's northern beaches have previously sold-out Newtown Social Club, The Standard and Oxford Art Factory in Sydney, and performed at numerous festivals including Bigsound, Homebake, AWME, Deni Blues, Bluesfest, and SXSW Music Festival in Austin.
'Feel Alright' is available to stream via Soundcloud 
Stream 'Feel Alright'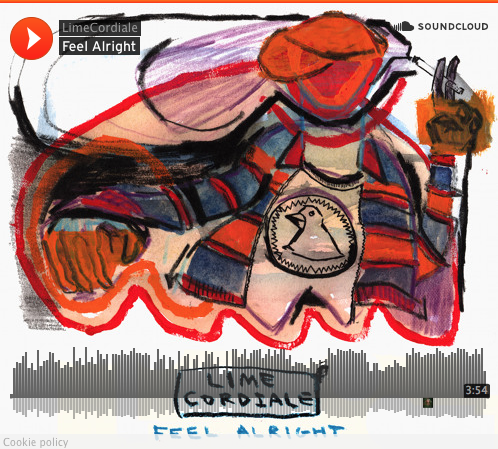 Original artwork by Louis Leimbach
FOLLOW LIME CORDIALE
FACEBOOK | TWITTER | SOUNDCLOUD