ACTIVE CHILD ANNOUNCES SUMMER NORTH AMERICAN HEADLINE TOUR
SOPHOMORE ALBUM, MERCY, TO BE RELEASED ON JUNE 16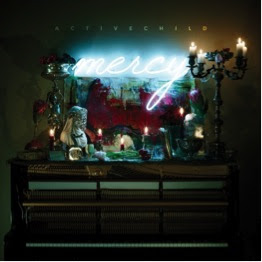 "It's delicate and strong, brimming with emotion…"-Stereogum
"(1999 is) a gorgeous stunner."-Paste Magazine
"Grossi's euphoric falsetto croons over an elegant piano riff and angelic harps, creating a dreamy, laid-back love song."-Indie Shuffle
(March 23, 2015)- Just last week Active Child announced plans to release his sophomore full-length, Mercy. Today, Active Child is pleased to share he'll be hitting the road in support of the record for a full headline North American run, with Low Roar supporting, throughout the month of June. A full list of dates can be found below.
Serving as a follow up to 2011's critically acclaimed LP, You Are All I See, and 2013's Rapor EP, Mercy showcases Grossi's raw, honest, and incredible vocals like never before.  "On Mercy I wanted to feel new again in my own music. It's been four years since my last full-length album and I wanted these songs to reflect my growth as an artist over that time. And I wanted my voice to be heard, and not just felt," says Grossi.
Produced and recorded in Brooklyn with Van Rivers (Blonde Redhead, Fever Ray) the ten-track LP is a collection of love songs, each shining a different light on the subject. "This album more than previous releases feels like more of a collaboration between the producer and I. His fingerprints are all over these songs and he really pushed me vocally, more than anyone has before." Written almost exclusively on the harp and piano, Mercy opens with "1999," a juxtaposition of playful harmonies and sullen narrations of past love. You can listen to "1999," complete with "some awfully purdy steel guitar," (FADER) below:
As "1999" closes, Mercy effortlessly descends from one track to the next with upbeat songs like "Never Far Away" that tell of deep, secure love while those like "Darling" tell a more somber tale of lost love while Grossi plucks innocently on the harp in the background. Mercy closes with "Too Late," a song of reflection and regret featuring Grossi on the piano and his layered, flawless-yet-ghostly harmonies on the forefront.  The album wraps with the words, "maybe it's too late for us, now I know, now I know," leaving the listener with some finality to the whirlwind of heartfelt emotions experienced throughout.
Mercy will be released nationwide on June 16 via Vagrant Records.
Purchase '1999':
iTunes: http://http://smarturl.it/AC1999
Spotify: http://smarturl.it/ACspotify
Mercy Track List
1999
These Arms
Never Far Away
Darling
Mercy

Midnight

Swim
Stranger
Temptation
Lazarus
Too Late
Active Child On Tour:
5/23 Santa Barbara CA @ Lightning in a Bottle Fest
6/03 San Diego CA @ The Irenic (seated)^^
6/04 Phoenix AZ @ The Crescent Ballroom (seated) ^^
6/06 Austin TX @ Central Presbyterian Church (seated) ^^
6/07 Dallas TX @ The Kessler Theater (seated) ^^
6/08 New Orleans LA @ Republic New Orleans (seated) ^^
6/10 Atlanta GA @ Vinyl (seated)
6/11 Raleigh NC @ Kings ^^
6/12 Philadelphia PA @ World Café (seated) ^^
6/13 North Bethesda MD @ AMP by Strathmore (seated) ^^
6/16 Brooklyn NY @ Music Hall of Williamsburg ^^
6/18 Boston MA @ Institute of Contemporary Art Boston (seated) ^^
6/19 Montreal QC @ Lion D'Or Montreal (seated)^^
6/22 Chicago IL @ To Be Announced
6/23 Minneapolis MN @ Cedar Cultural Center (seated) ^^
6/25 Denver CO @ Bluebird Theater (seated) ^^
6/28 Seattle WA @ The Triple Door (seated) ^^
6/29 Vancouver BC @ Biltmore Cabaret (seated)^^
6/30 Portland OR @ Doug Fir Lounge  (seated)^^
7/02 Napa CA @ City Winery (seated)^^
7/03 San Francisco CA @ Great American Music Hall (seated)^^
7/10 Los Angeles CA @ Cathedral Sanctuary at Immanuel Presbyterian (seated)^^
^^- w/ Low Roar
https://facebook.com/ActiveChild

https://twitter.com/ActiveChild

https://instagram.com/active_child

https://soundcloud.com/active-child